International transport of dangerous cargoes is a process that requires special competence, attention and responsibility. There are no trifles in this kind of working and every detail is important.
Preparation of documents for transportation of dangerous cargoes requires processes coherence of all participants in the transportation — the consignee, the consignor and the carrier company.
The last provides specialized vehicles and personnel for the transport of dangerous cargoes.
Dangerous cargoes classes
Class 2. Division 2.2
Gases: air, chlorine, propane, oxygen, nitrogen
Class 3
Highly flammable liquids: paint
Class 4. Division 4.1
Flammable solids: aluminum (powder), thermal matches
Class 4. Division 4.2
Self-igniting substances: copra, pyrophoric calcium, celluloid waste
Class 4. Division 4.3
Substances that emit flammable gases in contact with water: zinc (powder), ferrosilicon, potassium
Class 5. Division 5.1
Oxidizing agents: barium nitrate, ammonium nitrate, potassium permanganate
Class 5. Division 5.2
Organic peroxides: methyl ethyl ketone peroxide, succinic acid peroxide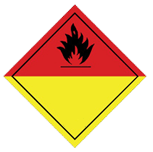 Class 6. Division 6.1
Toxic substances: nicotine, nitrobenzene, barium cyanide, potassium arsenate
Class 6. Division 6.2
Infectious substances: diagnostic samples
Class 8
Corrosive substances: sulfuric acid, hypochlorite solution, solid sodium hydroxide
Class 9
Other hazardous substances: asbestos brown, castor flour, lithium metal batteries
Our advantages
Security
We organize cargo transportation, ensure the safety of cargo and safety for others.
Quality
We have rolling stock equipped in accordance with increased safety requirements.

Drivers
We have drivers who passed special training for drivers and forwarders of dangerous cargoes.

Transport
The car park of our transport and logistics company has specially equipped vehicles for the transportation of dangerous cargoes.